Triple H Net Annual QSO Party
22th Annual QSO Party

The annual Triple H Net QSO Party was held on the evening of December 31, 2011 (January 1, 2012 UT), on the normal operating frequency of 7190 Khz (+/- QRM). The party started at 0600 Z instead of the normal 0700 Z time. This annual QSO party was for members only: Those that have a Worked All States certificate number issued by the Triple H Net. There have been 909 certificates issued since 1979. The 2011 QSO Party had 51 members in 22 different states, along with 2 different DXCC countries check-in. There were a total of 98 QSO's made. The event lasted 3 hours and 14 minutes.
HONORS

The annual QSO Party is where special honors are awarded to members for the year. They are recognitions for special efforts by members in keeping the Net not only operational, but for keeping the true spirit of the Net; a Worked All States and DX Assistance Net. The HHH really stands for "Hank's Helping Hand", after the Net founder, W2LTP, Hank Greenberg. It's for this reason we strive to 'welcome', 'invite', and 'assist' new hams, as well as those of us that have been around awhile to feel the 'family' nature of the Triple H Net. Remember, we all started as 'new hams' sometime...wasn't it nice to run into a bunch of helpful hams to assist your first experiences in ham radio?

The annual awards are given to any member (Worked All States Certificate holder) who truly demonstrates and exercises those beliefs in helping others. The BIG award is for the HAM OF THE YEAR. This honor is given by nomination of the Net membership, but only to one who has not been so honored in the past. See Past Honors for all previous recognitions issued.

2011

Ham of the Year - VK2NRB
DXer of the Year - ES3SX
Net Controller of the Year - KI0JG
Net YL - KD7YOZ
Net Relay - K4YCF/N1EDN
Trucker of the Year - KC9QJE
Club Station of the Year - K4LKL
TRIPLE H NET STORE

Remember that since the Triple H Net is a non-profit type organization, all monies charged for any kind of item is for the cost, such as printing, copying, and mailing expenses. Most of these charges barely pay for the actual materials used, but I would rather under-charge than accumulate extra monies to account for. Many of our participants make unsolicited donations from time to time, and necessary materials used are purchased in quantities for cost saving and efficient use of all monies received.
MEMBERSHIP CERTIFICATE
Anyone who gets a Worked All States certificate (and number), may request a 'Life Membership Certificate' for $2, no SASE. All Net certificates are mailed flat.
ANNIVERSARY STICKERS - 36 YEARS (2012)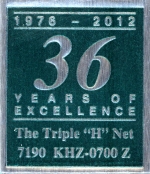 Every year the Net has 'anniversary stickers' printed for use by its membership on QSL cards and any related correspondence. These stickers are printed in Illinois, by the Stephen Fossler Company ...what I really consider to be the very best in the business! These annual stickers must be ordered in a relatively large quantity to keep the cost down. I offer them at actual cost, plus postage to send them to you. The stickers are 1 1/2 X 1 3/4 inches in size, and indicate the year honored...now '32'. I still have some for 2000, and I have just received the new stickers for 2007. I ordered 500 of them, and charge only $2 for 10 stickers, which includes my special envelope I use to send them in, as well as the cost of postage. I limit any one order to 50 stickers ($10), since I only have 500 to start with.

I still have a few stickers for the past years 1992-2005 (16, 17, 18, 19, 20, 21, 22, 24 25, 26, 27, 28, 29, 30, 31, 32, 33 and 34 years). These are offered at the same cost as above. Each year uses a different color.
LIFE MEMBERSHIP STICKERS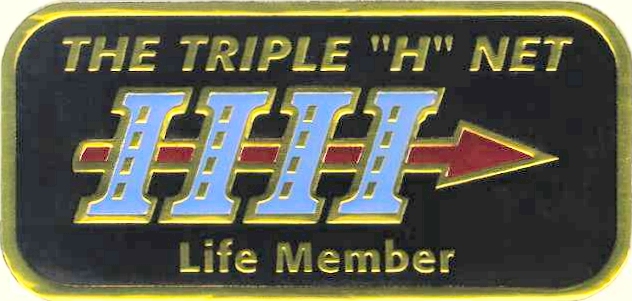 These new 'Life Membership' stickers are from the same company, and are now available for members only at a cost of $3 for 10 stickers.

NOW BACK IN STOCK!!
CLOISONNE LAPEL PIN


I have received the 200 Triple H Net lapel pins featuring the HHH Logo made by the Lapel Pin, Inc. It is a quality pin approximately 1 inch long with the 'HHH' logo and the red arrow. If you are a member of the Triple H Net, and you have already reserved a pin, the cost is $8 for one $13 for two and $18 for three. Maximum is three! Checks made out to James W. Young. The cost includes a special mailer and insert to protect the pin. Non-members can obtain one pin for $10. Contact W7FTT for further details.